Tutorial 5

Creating Stratigraphic Diagrams

Creating beautiful stratigraphic diagrams is difficult in any program, and while it is not necessarily easier to create beautiful digrams in R the first time, R becomes useful when the data used to create the graph get updated, requiring you to re-make the plot. In the course of a thesis, one can re-make a figure many, many times with various modifications. Learning to create publication-ready stratigraphic plots in R is a front-end investment of time that becomes useful after the first few rounds of revisions. This tutorial is designed to give you the tools to make such diagrams with your own data.
5.1

Prerequisites

The prerequisites for this tutorial are the tidyverse package, the gridExtra package, and the analogue package. If you haven't installed the analogue or gridExtra packages yet, you'll have to install them using install.packages().

Load the tidyverse when you're done! We will load the other packages when we use functions that require them below.

Finally, you will need to obtain the example data. In this tutorial, we will use the Lake Arnold diatom counts tidy CSV version of the data (Whitehead et al. 1989), and the Halifax geochemistry data. If you have these files downloaded you can load them yourself (see Tutorial 4), or you can copy/paste the following code to load the two datasets.
5.2

Workflow

It's worth mentioning a bit about how one might go about integrating R into one's figure-creating workflow. I suggest creating a file (something like create_figures.R) that loads the data, creates the figures, and saves the figures, within an RStudio project that also contains the data files. Keeping the data needed to create the figures and the script used to create the figures close means that you can reproduce the figure if you need to change the script (or change the data!), and using an RStudio project means you can move the folder around your computer (or to somebody else's computer) and your scripts won't change. I usually have an RStudio project with a subdirectory for data-raw (the data from the instrument/tech/emailed from other lab), data (the user-modified version of the files in data-raw that are R-friendly), and figures (the R-generated figures).
5.3

General stratigraphic diagrams

Stratigraphic diagrams are at heart, a set of plots that share a Y axis. The Y-axis represents time, which can be expressed as depth or as some unit of actual time (e.g., AD 2018, or 1200 years BP), and the X-axis is the value of each parameter. We will use the ggplot2 package to create these graphics for non-species data, and the analogue package to create the graphics for species composition data.
5.4

Exercises
Make a simple stratigraphic diagram of the "BEN15-2" core. Use age_ad on the Y-axis. Your plot should look like this: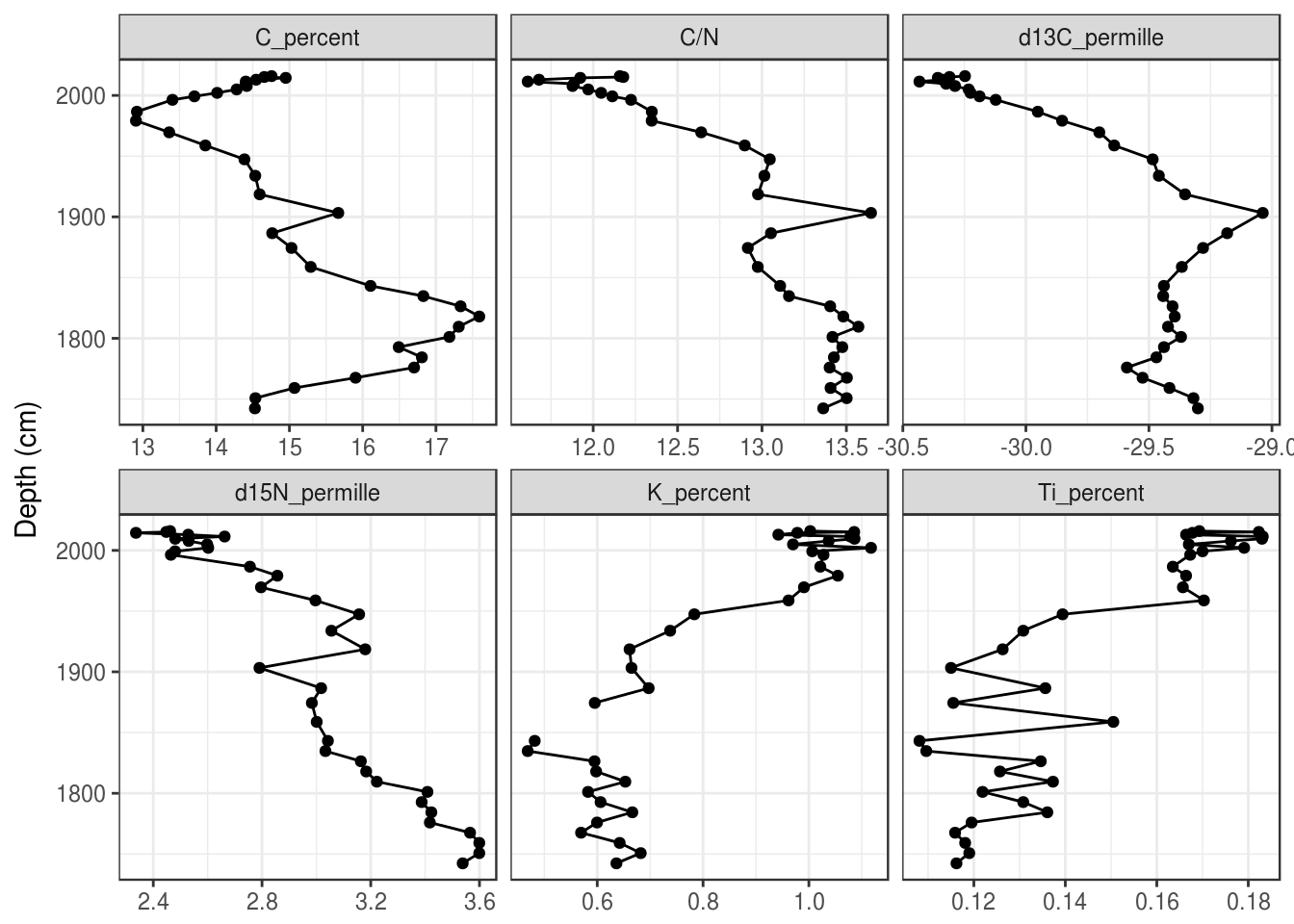 Make a stratigraphic diagram of the "FCL16-1" and "LEM16-1" cores. For bonus points, use proper sub/superscripts for the delta parameters and keep C/N, C, and stable isotopes together, include units in parentheses for all parameters, and use age_ad on the Y-axis. In the end, your plot (with bonus marks) should look like this: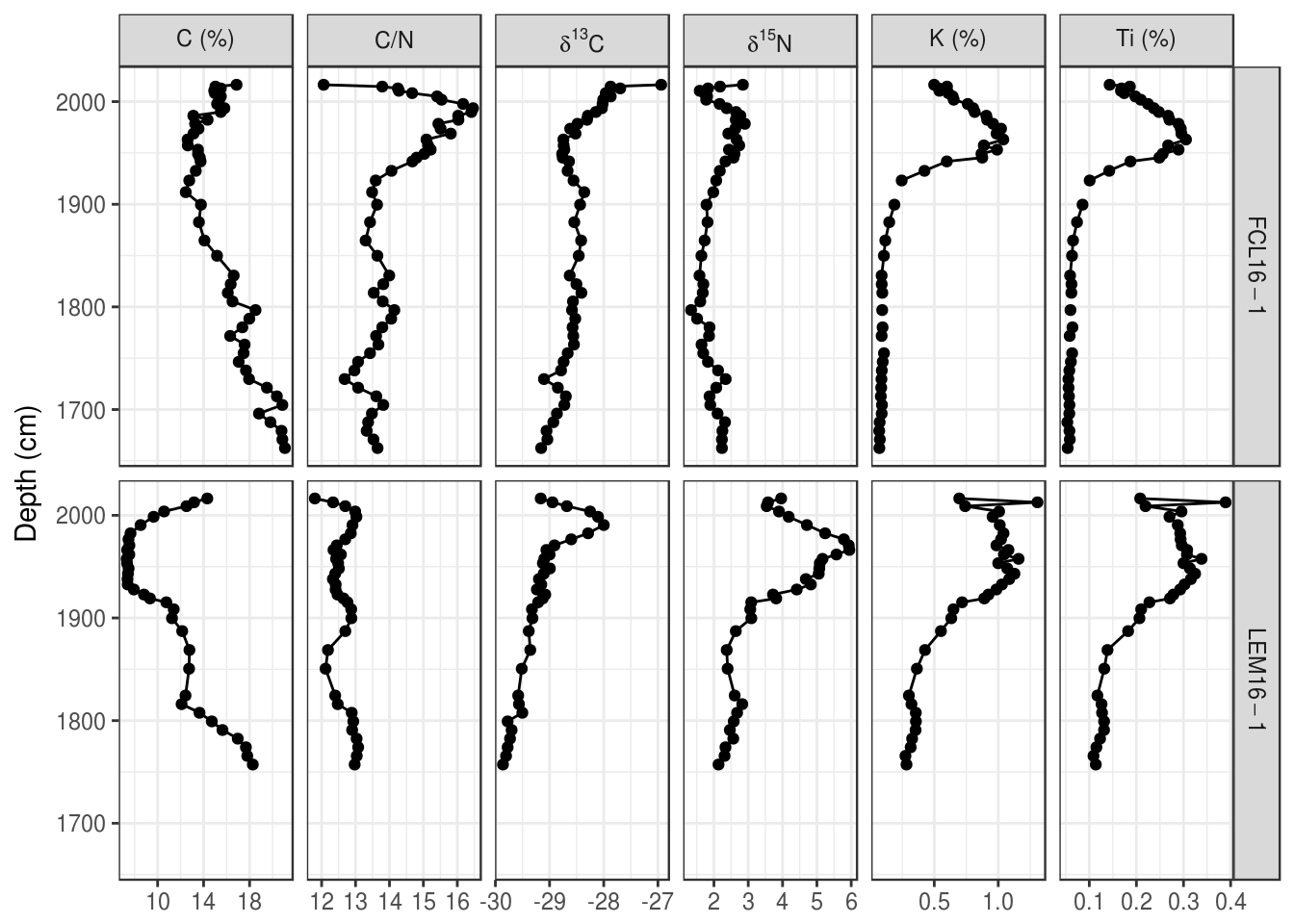 5.5

Species composition diagrams

Species composition diagrams are like other types of strat diagrams, except they have long variable names and generally require scaling of the space such that 10% on one facet is the same distance as 10% on another facet. There are two approaches for this: using ggplot2 is more verbose but more flexible (you can use most of the tips/tricks above to add secondary axes, horizontal lines, etc.), and using the Stratiplot() function in the analogue package is less verbose but requires that you have your data in a very specific form. We will go over both approaches here, but if you can make ggplot2 work for you, the plot looks much nicer.
5.5.2

Using analogue::Stratiplot

The analogue package by Gavin Simpson has a number of useful functions for paleolimnologists, including a Stratiplot() function designed to produce stratigraphic plots. I find the ggplot2 version to be more flexible, but the default look and feel works for you, Stratiplot() is definitely easier. Because we are using functions from another package, we have to load the package using library().
## Loading required package: vegan
## Loading required package: permute
## Loading required package: lattice
## This is vegan 2.5-1
## analogue version 0.17-0
5.5.2.1

Data preparation

The data required by Stratiplot() is a data frame of relative abundances (as columns). To calculate this from our filtered data, we can use the spread() function to get the data in "parameter wide" form.
## # A tibble: 16 x 13
##    depth_cm age_bp `Surirella delica… `Anomoeoneis seria… `Navicula subti…
##       <int>  <int>              <dbl>               <dbl>            <dbl>
##  1        0    -39             12.7                 0.775           11.4  
##  2        5     12              7.57                1.84            14.9  
##  3       45    445              4.02                4.02            12.6  
##  4       75    795              6.25                3.53             8.97 
##  5      115   1373              4.55                1.45             6.40 
##  6      175   2314              7.29                0.521            7.81 
##  7      235   3469              3.18                0.867            6.07 
##  8      275   4243              6.30                2.62             4.99 
##  9      325   5218              1.47                3.24             6.49 
## 10      375   6196              0.508               3.05             4.57 
## 11      425   7274              4.49               11.4              4.49 
## 12      445   7975              2.88               10.7              3.40 
## 13      475   9018              0.777              10.1              6.48 
## 14      495   9714              0.521              13.0              0.260
## 15      525  10645              1.07                9.33             0.533
## 16      555  11240              0                   0                0    
## # ... with 8 more variables: `Fragilaria pinnata` <dbl>, `Fragilaria
## #   brevistriata` <dbl>, `Pinnularia microstauron` <dbl>, `Pinnularia
## #   biceps` <dbl>, `Melosira distans` <dbl>, `Cymbella hebridica` <dbl>,
## #   `Fragilaria virescens var. birostrata` <dbl>, `Fragilaria
## #   construens` <dbl>
5.5.2.2

Plotting a single core

The Stratiplot() function takes two arguments: the first is a version of the data frame we just created without any of the depth information. The second is the depth information as a vector.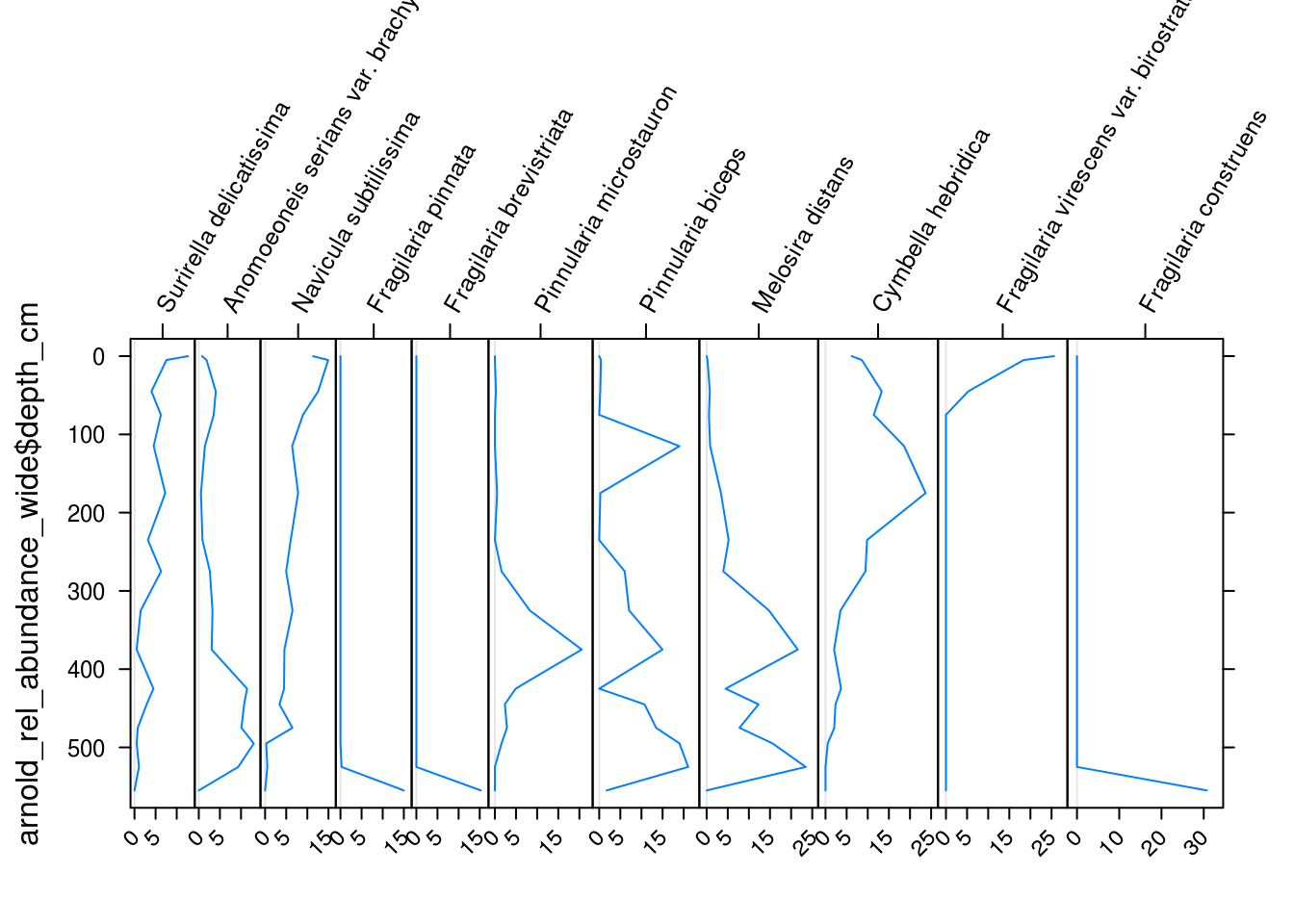 There are many arguments to Stratiplot(), but I found for this example that the following values worked for this particular dataset. In particular, increasing the topPad parameter was needed to keep the species labels from being cutoff.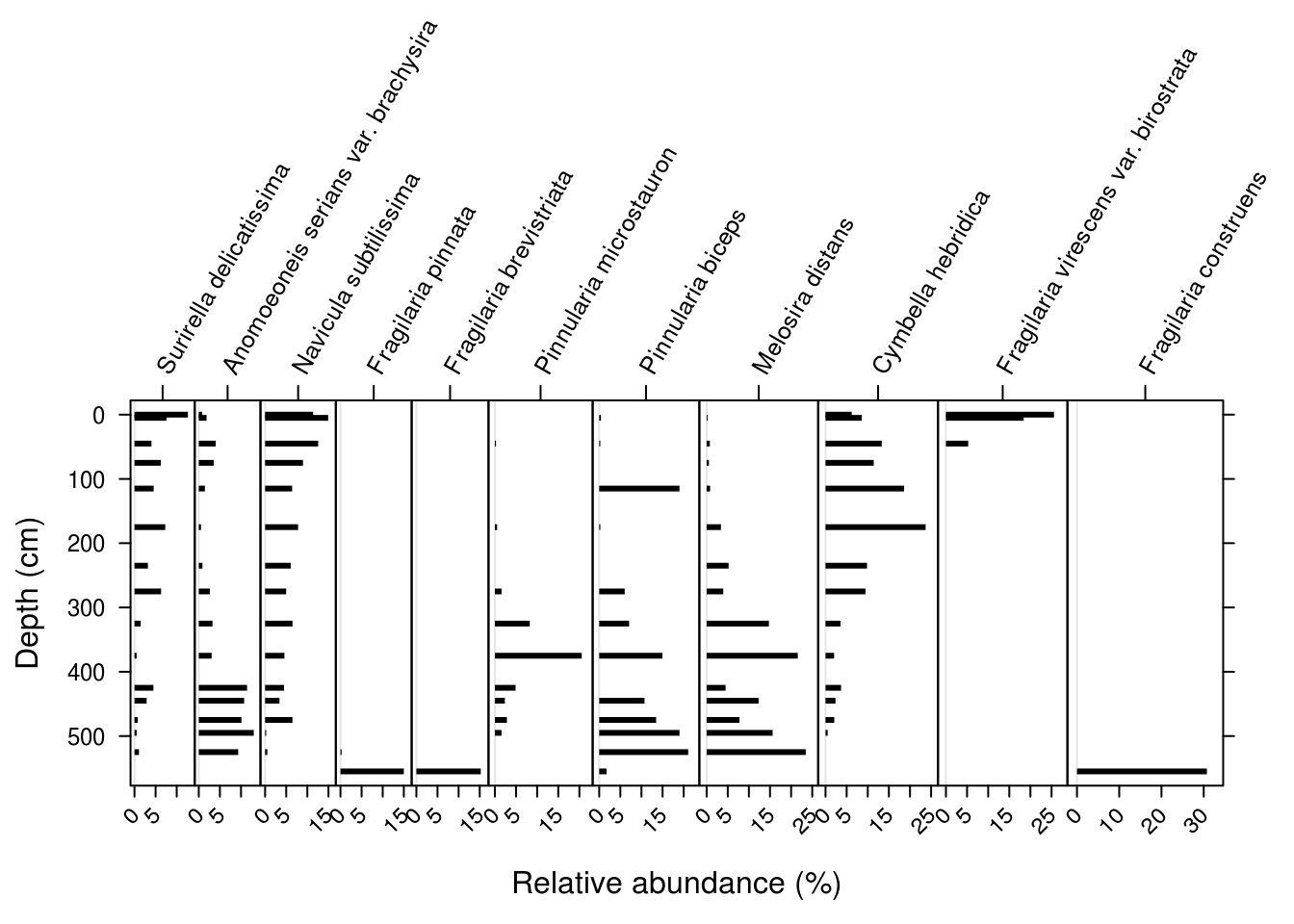 5.5.2.3

Non-species data

Including non-species data is similar to including species data using Stratiplot(), but the varTypes argument needs to specify that the non-species variables should have independently sized axes. This should be a vector with the same number of elements as variables in the plot (I've use rep() to repeat "relative" and "absolute" the correct number of times.)
5.5.2.4

Saving a plot

You can save these plots by enclosing the Stratiplot() call in png() (or pdf()) and dev.off():
5.6

Exercises
Use either ggplot2 or analogue to plot the species c("Surirella delicatissima", "Anomoeoneis serians var. brachysira", "Navicula subtilissima", "Fragilaria pinnata", "Fragilaria brevistriata"). For bonus points, use ggplot2 and rotate the axis labels.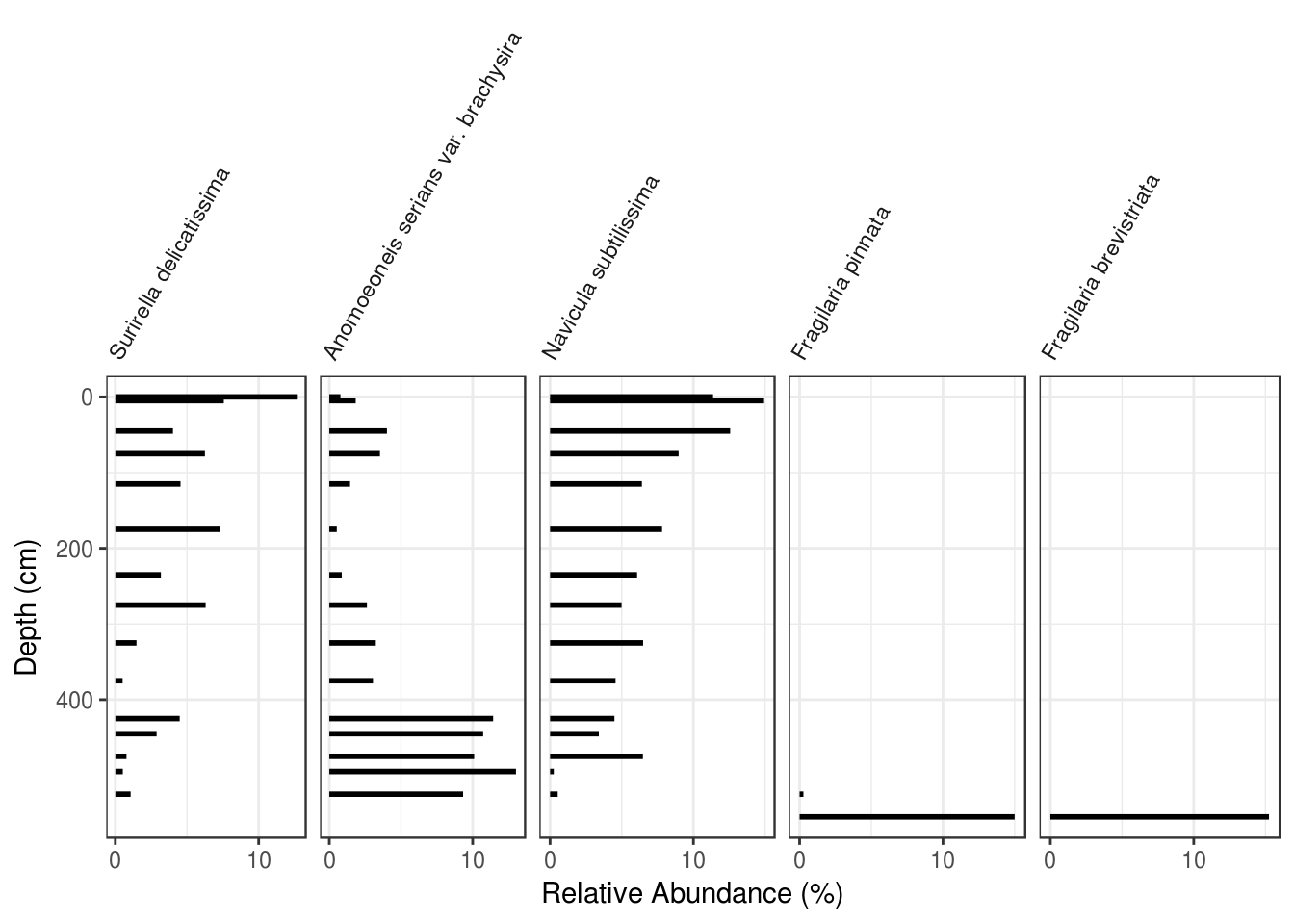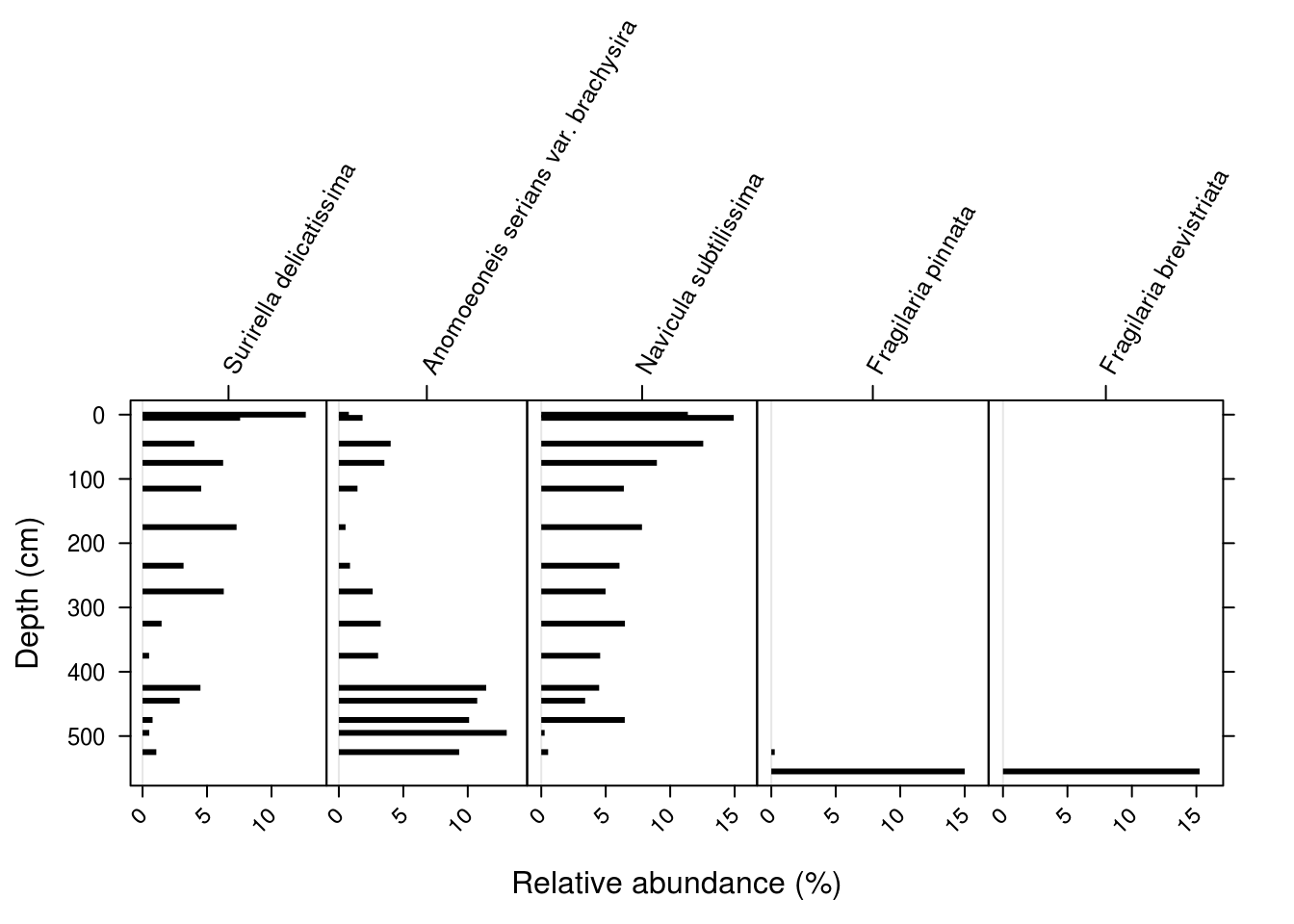 5.7

Summary

In this tutorial, we used ggplot2 and the analogue package to create (and save) stratigraphic diagrams for geochemical and species composition data. Unforunately, I don't know of any good resources currently available for creating stratigraphic plots in R, although there is an R session at IPA-IAL this year.
References
Whitehead, Donald R., Donald F. Charles, Stephen T. Jackson, John P. Smol, and Daniel R. Engstrom. 1989. "The Developmental History of Adirondack (N.Y.) Lakes." Journal of Paleolimnology 2 (3): 185–206. https://doi.org/10.1007/BF00202046.